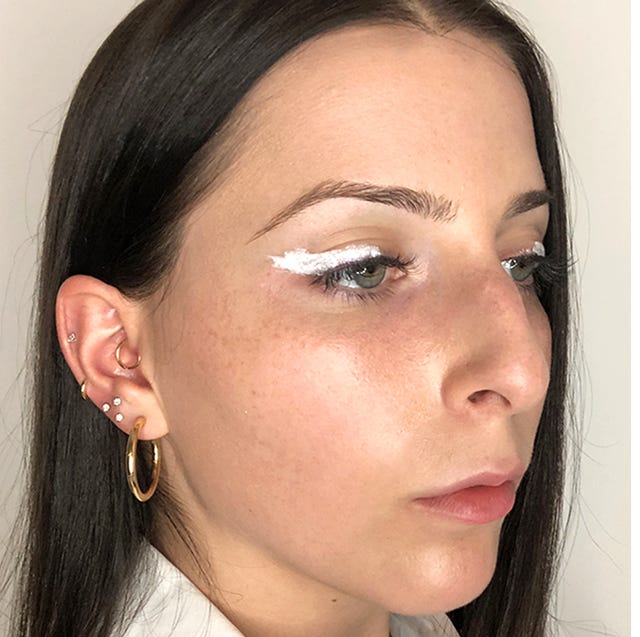 Ali Oshinsky, @KaliKennedy
Eye makeup is so boring. Isn't it? Case in point: if you own a palette, you've probably hit pan on the brown, the lighter, taupier brown, and nothing else. There's also, of course, the issue of use. Disregarding the fact that a pressed powder in the beige family very rarely inspires the kind of heart-palpitating need-it-now type of inspiration I need even to pick up a makeup brush, eye makeup is hard. In fact, it's the only makeup product regularly packaged with a map. And maps, unless they're medieval ones with bizarrely humanoid dragons all over the place, are boring. Sorry, I don't make the rules!
The people who do make the rules? That would be makeup artists. And despite what you might think, theirs are more loosey-goosey. It takes a little bit of creative scrappiness to make a look you want to look at over and over and over again—and thanks to Instagram's save feature, I did. It wasn't until recently that I noticed the disconnect between the eye makeup I thought I could wear and the eye makeup I liked. There's nothing about a smoky eye that makes me feel more like me—but though ashy gray doesn't get me going, pastel purple sure does, and canary yellow, and green like the first bunches of romanesco at the farmer's market. My saved folder was overflowing with color.
If you're not so into eye makeup, maybe it's time to try something new for spring. Here are five suggestions on where to start, inspired by things I've saved over the past few weeks and easy enough to do with your eyes closed. And who knows, you might be surprised by how the right shade of blue can disappear into your face just as well as a neutral.
Advertisement – Continue Reading Below
Advertisement – Continue Reading Below