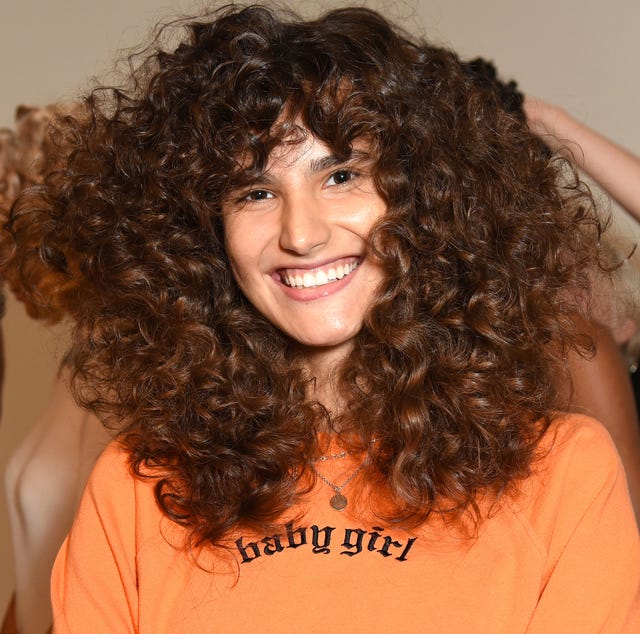 Yuchen LiaoGetty Images
Hair loss is more common than you think and can happen to anyone. According to Dr. Eric Schweiger of Schweiger Dermatology Group in NYC, causes range from "'androgenetic' or hormone-related hair loss, stress related-hair loss, also called 'telogen effluvium,' and dandruff. Medications, vitamin deficiencies, thyroid disorders, excess styling, and autoimmune disorders can also cause hair loss and thinning." But the good news is there are viable solutions, starting with topical growth treatments.
When it comes to a hair growth shampoo, you have two options: prescriptions or over-the-counter treatments. Prescription shampoos like ketoconazole are "anti-androgenetic," which means they prevent two hormones associated with hair loss—testosterone and dihydrotestosterone (DHT)—by "targeting hair growth at the site of the follicle and helping to interrupt the hormone cycle locally that causes thinning," explains Schweiger. "Over-the-counter growth shampoos typically contain amino acids and antioxidants to provide the components to rebuild hair as well as reduce damage and inflammation."
If you think over-the-counter hair loss shampoos are for you or just want to promote growth and strength, Schwieger recommends formulas with antioxidants such as vitamin E and ginseng, amino acids, and B-vitamins to help rebuild hair and reduce environmental damage. She cautions against using shampoo with parabens, sulfates, and fragrances, which can irritate hair and reduce moisture.
And remember hair growth is a slow process and everyone is different. Dr. Nava Greenfield of Schweiger Dermatology Group in NYC recommends that you try a product out for three to four months before you determine whether it is effective or not. "Take before and after photos since the change may be too gradual to notice," adds Dr. Greenfield.
Ahead, shop 16 vetted hair growth shampoos to try.
Advertisement – Continue Reading Below
1
Nioxin System 1 Cleanser Shampoo
"Nioxin cleanser is good for general hair thinning," says Schweiger. Plus, nine out of ten people note a thickening of their hair when using the Nioxin treatment system.
2
Laritelle Organic Shampoo
This certified organic shampoo is free of parabens and sulfates. Instead, it's made with naturally derived ingredients like ginger and cedarwood to promote hair growth.
3
Art Naturals Organic Argan Oil Hair Loss Shampoo
Art Naturals Argan Oil Shampoo contains DHT blockers that work to prevent damage and further hair loss. It has over 1,000 reviews on Amazon and users reported noticeable hair growth within the first two weeks of use.
4
SheaMoisture African Water Mint & Ginger Detox & Refresh Hair & Scalp Gentle Shampoo
This shampoo cleanses the scalp without drying it out like harsh chemicals can do. You'll get a powerful shampoo without compromising moisture.
5
Strong HairPro Hair Loss Treatment Kit
The formula works to strengthen the hair from the root and avoid breakage. It also targets DHT buildup, which is the primary cause of alopecia.
6
Pure Biology Hair Growth Stimulating Shampoo
Filled with active ingredients like biotin and keratin, the shampoo aims to promote the body's own abilities for hair growth. The formula stimulates the cells responsible for hair follicle development.
7
Pura d'or Hair Loss Prevention Shampoo
This shampoo contains Argan oil, which works to moisturize and stimulate growth at the root and biotin, which works to strengthen each strand of hair. 
8
Ultrax Labs Hair Surge Caffeine Hair Loss Hair Growth Stimulating Shampoo
Ultrax Labs
amazon.com
$59.95
The caffeine compounds in this shampoo works to reduce hair loss by stimulating hair follicles. 
9
Keranique Scalp Stimulating Shampoo
This is the perfect preventative shampoo. The nutrient-rich cleansing treatment contains a keratin complex that strengthens hair to avoid breakage or loss due to heat or damaging products.
10
Honeydew Biotin Shampoo for Hair Growth B-Complex Formula for Hair Loss Removes
This is Amazon's top seller in hair regrowth shampoos. The natural biotin shampoo boasts four and a half stars and over 1,673 reviews. Consumers claim the product works like magic, helping to improve hair loss from both genetics and surgery.
11
Evlogies Naturals Hair Growth & Damage Repair Shampoo
This is the only hair growth shampoo that contains Quinoa Pro NPNF, a multi-functional protein that promotes hair color retention. Hair will be both conditioned and moisturized with the antioxidants, nourishing oils, and vitamins that seal the hair's cuticle layer to create a defensive shield.
12
Dr. Hempster Hair Loss and Biotin Shampoo
Key ingredient hemp oil stimulates new hair growth and strengthens weakened strands. The other star ingredient, Saw Palmetto, fights enzymes that cause baldness.
13
Pura D'or Anti-Hair Thinning Shampoo
Fight hair thinning the natural way. Biotin, pumpkin seed, and black cumin work to naturally increase the volume of your hair and strengthen weak strands. The formula is also gentle enough for everyday use.
14
Honeydew Hair Loss Shampoo
If shedding is your main problem, the natural ingredients in this biotin shampoo are here to help. Keratin complex and coconut oil hydrate your skin and heal itchy, flaky scalps that might be causing dandruff.
15
Resistance Length Strengthening Shampoo
Kérastase
sephora.com
$35.00
Key ingredients creatine and taurine work to strengthen the fibers of the hair and moisturize your scalp. You're getting two key hair loss fighters in this shampoo.  
16
Nourishing Shampoo
Natural Tech
davines.com
$32.00
It's all about the scalp. Natural Tech's formulation stimulates growth in the scalp to promote the growth of new hair follicles. The brand also has a gentle conditioner that is recommended to use after you shampoo. 
Advertisement – Continue Reading Below