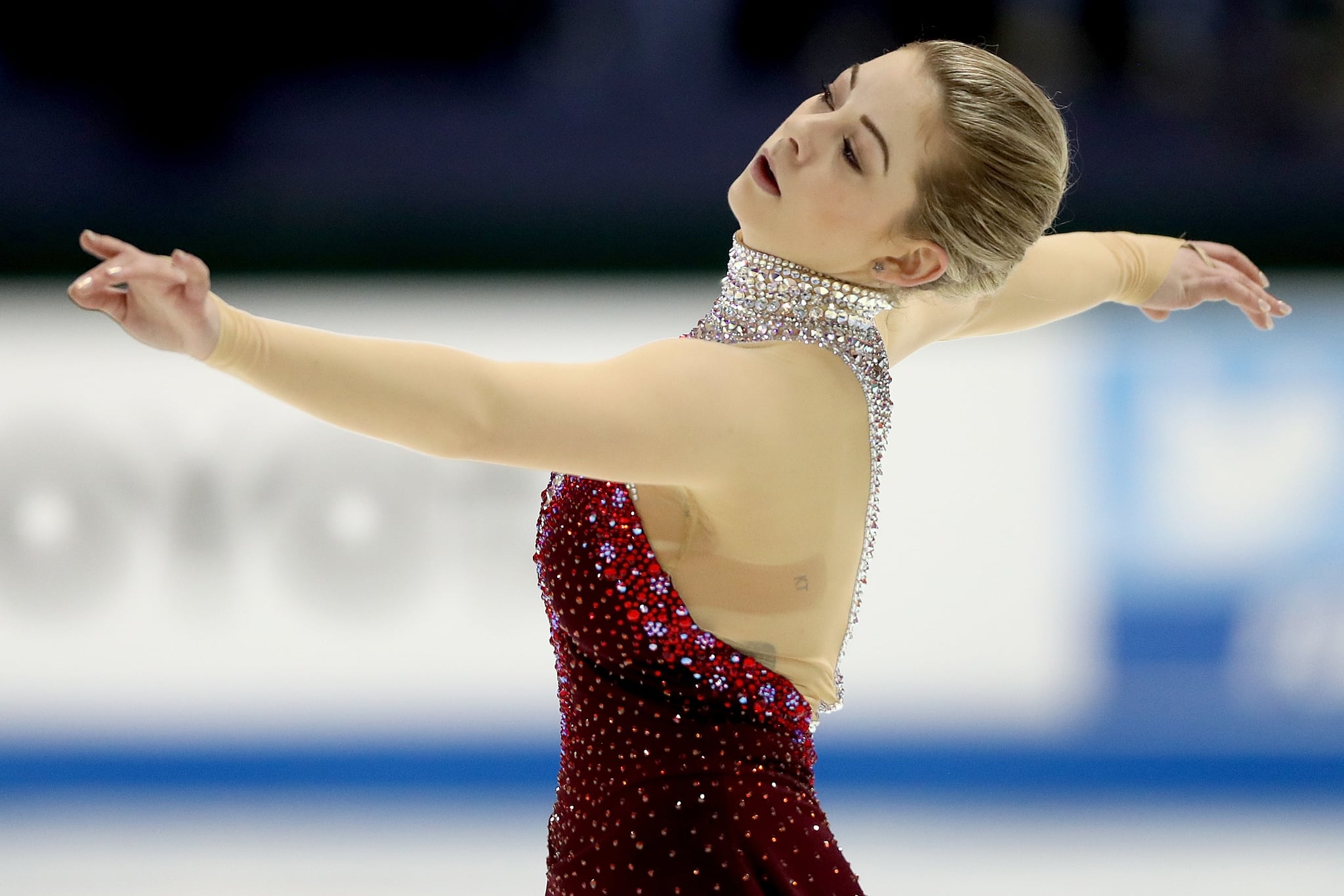 Figure skater Gracie Gold is one of several Olympians featured in HBO's documentary The Weight of Gold, which exposes the pressures athletes face in the pursuit of medals and the emptiness they often feel when that chapter of their life is over. Gold's rise and fall — and eventual comeback — has been one of the most important stories in figure skating in recent years. If you're wondering if she's still skating, the answer is yes, but it's been a long, complicated journey.
Following a fairytale Olympic season in 2014, during which Gold won a team bronze medal and came just shy of the podium in the individual ladies' event, she hit bottom in 2016. At the World Championships in Boston, Gold faltered badly in her free skate, falling from first place in the short program to fourth overall. In a 2019 profile in The New York Times, she revealed that the loss sent her into a deep spiral, and her already-disordered eating resulted in weight gain and depression. "Can't anybody see the cry for help that is my existence right now?" she recalled screaming at a 2017 pre-season session. It marked the first year she finished off the podium at nationals, falling all the way to sixth. Her longtime coach bailed on her in very public fashion.
Gold entered inpatient treatment for the eating disorder that year and also sought treatment for anxiety and depression. "It wasn't just one thing," Gold told the Guardian in 2020. "That's where people don't always fully understand at times. They want it to be this happened, you got depressed and then this was the result." She described the events that led up to her seeking treatment as a perfect storm of "a bunch of tiny things." After finishing the program, she tried to get back to the ice.
"There is not an Olympic medal for who can suffer in silence the longest."

Figure skater @GraceEGold encourages athletes to speak up about mental health ahead of the release of 'Weight of Gold,' produced by @MichaelPhelps.

Full interview: https://t.co/QO43vRnNpi@HBO @TeamUSA pic.twitter.com/RxGIZzgZs3

— Olympic Channel (@olympicchannel) July 29, 2020
Gold began preparing for a comeback and chose to take advantage of a qualification process for athletes who have stepped away, which gained her a spot at the 2018 Rostelcom Cup. She competed there in the fall (against the recommendation of her coach, she admitted to the Times), but faltered again and withdrew after the short program. She also withdrew from the 2019 national championships to take more time to rebuild.
By the following year, Gold was prepared, but according to the sport's rules, she now had to qualify through lower-level rounds in order to make it to nationals, rather than getting a bye as a top-tier skater. She managed to do so, paving the way for her first appearance at nationals since 2017. Gold went into the 2020 competition as a dark horse: an ex-Olympian, but one who'd been away for some time. She wound up finishing in 12th place, but her free skate — set to Sara Bareilles's "She Used to Be Mine" from the musical Waitress — delivered one of the most emotional moments of the night. Gold was in tears by the time the crowd gave her a standing ovation at the end of her program.
Her 12th place finish wasn't enough to earn her a spot on the Worlds team, but that ultimately didn't matter, because the competition was one of the many sporting events cancelled due to the coronavirus pandemic. Officially, Gold is still an active skater, and another season is hopefully in the cards. "I think we've earned that," she told NBC Sports after nationals.