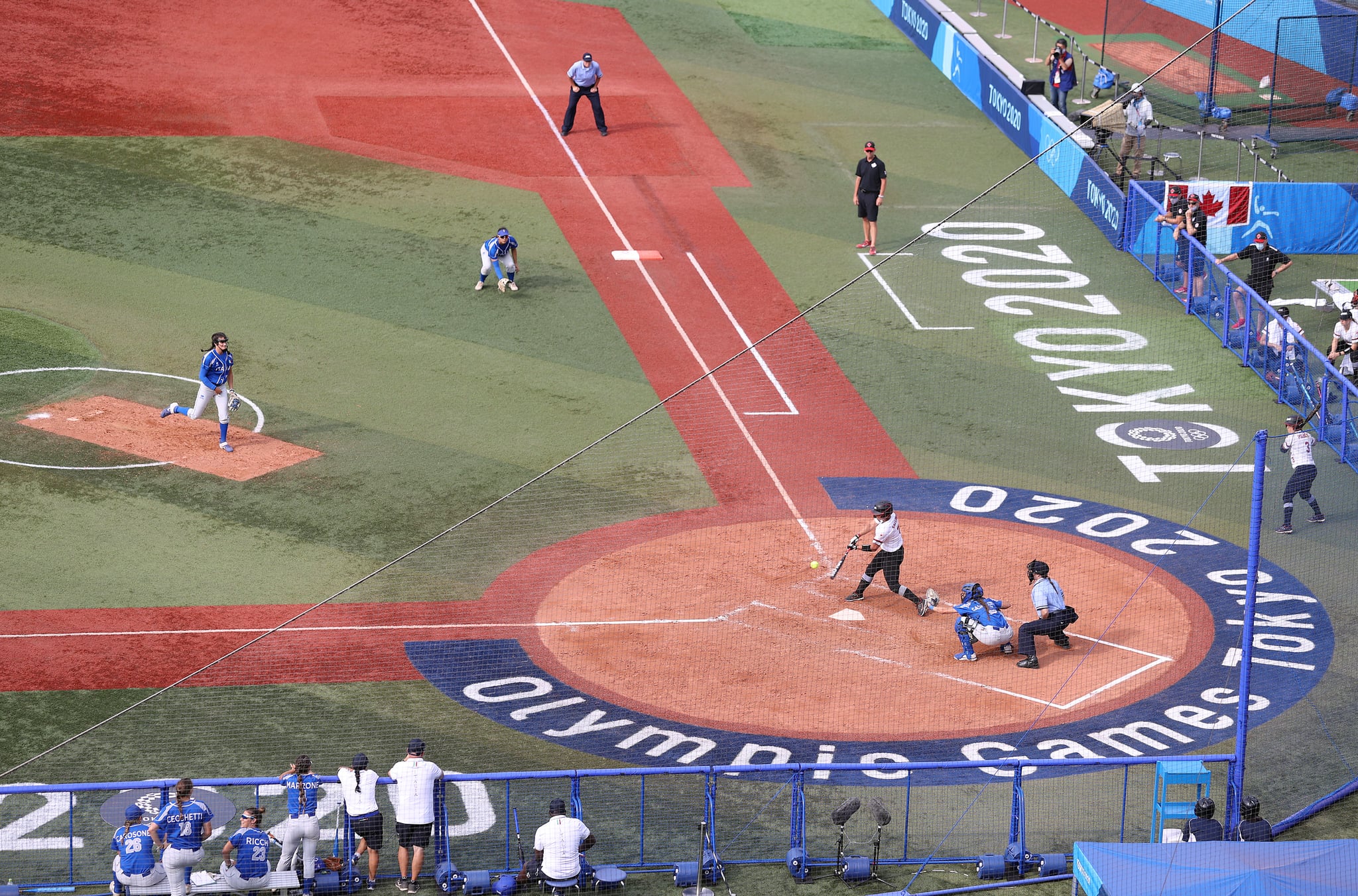 If you've been tuning in to watch softball in the 2021 Olympics in Tokyo, you've probably noticed that they're playing on fields that are about 95 percent synthetic turf. The infield is all green "grass" with small patches of dirt for the pitching mound and batter's box. That's noteworthy, because softball fields traditionally have all-dirt infields — and that's not the only awkward-looking thing about the Olympic softball fields. The pitching circle sits in front of the mound, second base is smack dab in the middle of the infield, and the players don't even have a dugout; you can see them hanging out behind chain link fences with folding chairs for seats.
The reason for the weirdness? They're playing on softball fields converted from baseball fields, and which are set to switch back once the softball tournament is over. In Tokyo, the two sports are sharing accommodations for the purposes of financial sustainability, a "cost-effective model" meant to appeal to the International Olympic Committee and make the sports easier to include in the Games. Softball and baseball haven't been in the Olympics since 2008, so compromises like this were necessary if athletes wanted to play again. It makes sense from that standpoint, and to their credit, the players and coaches aren't complaining.
"The turf is fantastic," said U.S. softball coach Ken Eriksen, according to USA Today. "It's really probably one of the best venues we've played in." Infielder Amanda Chidester called the field "immaculate," adding, "I wouldn't even know [it's a baseball field] – you can't even tell the difference out there. It's just great to be out there and be able to play the game."
The field situation is understandable, but as a fan, it's undeniably disappointing to see, especially from a host country as supportive of softball as Japan, which fields one of the top professional leagues in the world. And because softball fields are smaller than baseball, it's hard not to feel like softball is getting the short end of the stick; if one has to fit inside the other, it's obvious which it had to be. Athletes who have spent years fighting to be re-instated in the Olympics again had to make a compromise to come back, and they've done so without complaint and for reasons that make sense. But for softball fans, who have long known that Olympic leadership doesn't see their sport as a priority, this just feels like the latest bitter pill to swallow — that athletes don't even get a facility designed for their sport.
There might be a glimmer of hope. After 2021, softball won't be played at the Olympics until 2028 at earliest — and in the US, a softball- and baseball-saturated country that should be able to accommodate facilities for both, should the sports be back. Softball players have done their job, creating an intense and competitive tournament filled with walk-off wins and lights-out pitching. It'll be up to Olympic leadership to do the same.