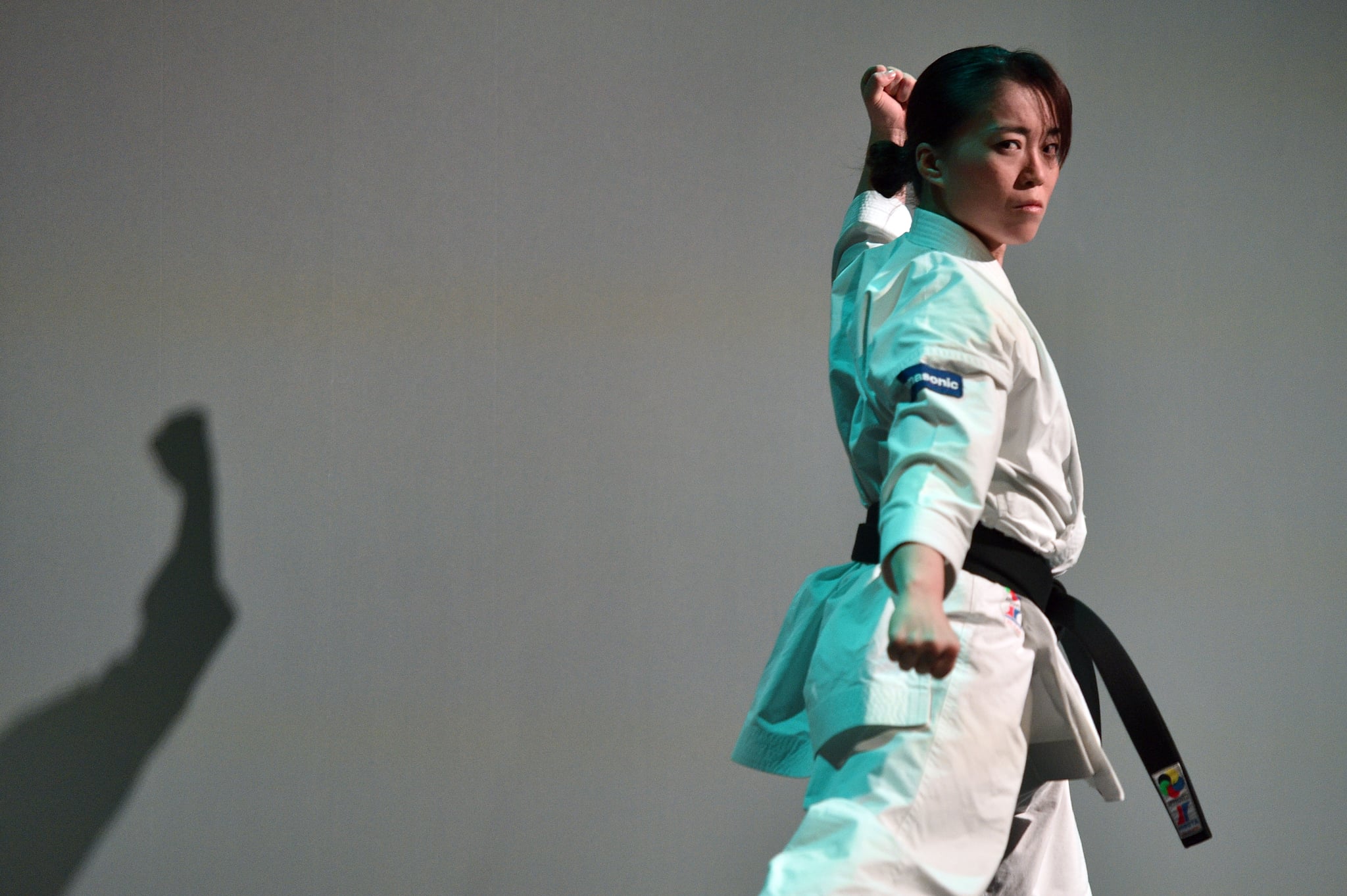 Sakura Kokumai is the only woman karate athlete from the United States competing at the Tokyo Olympics. Being in the Games this summer, she told POPSUGAR, is a "dream of a dream" — and she can't wait to introduce the sport she's so passionate about to the world. For many, she knows it'll be the first time they're seeing karate on a stage this size.
In Tokyo, karate makes its Olympic debut with two disciplines: the sparring discipline of kumite that features three different weight classes for men's and women's divisions and kata, where athletes compete alone and are judged on performances featuring specific moves and techniques. Growing up in karate, Kokumai, a world bronze medalist and seven-time national champion, said you were expected to train both disciplines in your dojo, but she switched over to kata completely by age 17.
Kokumai explained that 70 percent of scoring in kata is technical and 30 percent is based on athleticism. "They look at all the precise things: where you punch, how you're moving your feet from stance to stance," she said. "For athleticism, they're looking at speed, power." She thinks of kata as an art form, stating, "There's just something special about the karate movements that we are able to move people through our performance. Every time people come up to me and say, 'Hey, I don't know what you did, but that was amazing. I have goosebumps.' That, to me, is a huge win."
When the COVID-19 pandemic hit, Kokumai had been living out of a suitcase since 2018, competing in the Premier League to receive qualifying points for the Olympics. Going from nonstop traveling to being locked down at home was a big shift. However, the transition training-wise wasn't an outright adjustment because she was used to practicing on her own in places like her living room and garage. Having iFit-powered home workout equipment from NordicTrack — the NordicTrack S22i bike and NordicTrack Vault fitness mirror specifically — she said, helped. Many of her sessions outside of kata are core- and legs-based and incorporate explosive movements as well as endurance and balance work.
At the Olympics, Kokumai wants to go for the win, as you'd expect, and she hopes she can give people a reason to watch karate and learn more about the sport. She split her childhood between Hawaii and Japan, where she still has family, and also studied in Japan for her college and master's degrees, which makes her excited to return back to the country she considers home.
Karate will not be in the Paris Games in 2024, and Kokumai is disappointed, but she's still hoping that the Los Angeles Games four years later, in 2028, will feature the sport. "I put everything I had to qualify and get myself there at the Games," she said. "And I do believe that every kid deserves to have that dream, to watch karate athletes represent the US, or any other country, and go out there to compete at the Olympics." Right now, she has her eyes on the prize, and you can catch her in Tokyo with a flag signed by her friends, family members, and coaches who have influenced her career. On it, too, are the Olympic rings and the US stars and stripes.
To learn more about Team USA, visit TeamUSA.org. The Tokyo Olympics begin July 23 on NBC. Karate starts Aug. 4.